Part B or Not Part B… That is the (Medicare) Question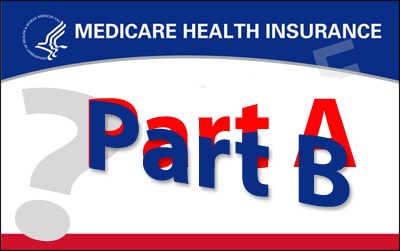 In simpler times, Medicare was a red, white, and blue card. If it said "Part B" on it, congrats, the patient had chiropractic coverage! Medicare is not just for seniors either- younger patients may be covered due to disability or end-stage renal disease (ESRD). Patients now have more insurance options than ever before making the billing process a little more challenging for your office. How can you tell if the patient has traditional Part B coverage, is a QMB, has switched to a Medicare Advantage (MA) Plan, or has a secondary policy? Insurance verification is imperative to ensure that you are sending your claims to the right location and documenting what type of coverage the patient has. Let's take a quick look at some of the different insurance coverage options patients may present with and how to get the answers you need to bill out claims correctly.
Traditional Medicare
This is the most commonly seen type of Medicare coverage and is broken down into Part A and Part B. Part A is for hospital coverage and most Medicare beneficiaries will have this coverage. Part B is for physician services, including chiropractic benefits. Because it is elective, not all patients choose to have Part B coverage. So, don't assume!! Currently, the only chiropractic service covered by Medicare Part B is the spinal manipulation (CPT Code 98940-98942).
Medicare Advantage (Medicare Part C)
Some patients choose a Part C plan instead of traditional Part B. Medicare Advantage (MA) plans are not administered through Medicare- they are private plans that have been approved by Medicare. As a result, each MA Plan may have different out-of-pocket costs and different rules for how patients obtain services (e.g., Is a referral required for specialists like chiropractors? Are they limited to doctors, facilities, or suppliers that belong to the plan?)
MA Plans follow the same rules for billing as regular carriers. If you are a contracted provider for the plan the patient belongs to, and s/he asks you to bill for a service, you must do so. You are not required to bill if you aren't participating and/or if out-of-network benefits aren't available. Medicare Advantage Plans usually do not require the same type of Advance Beneficiary Notice (ABN) as traditional Medicare. Therefore, it's critical that when you verify each plan, determine whether the carrier has its own ABN form that you are required to use.
Railroad Medicare
Medicare benefits are also sometimes offered to retirees of specific programs (e.g., Railroad Workers, United Mine Workers, etc.). These Medicare programs have specific regulations but may issue red, white and blue cards similar to the traditional cards. This is different from supplemental offerings by employers and coverage for chiropractic care varies.
QMB (Qualified Medicare Beneficiary)
The QMB (Qualified Medicare Beneficiary) program is a State Medicaid benefit that guides low-income Medicare beneficiaries through Medicare Part A and Part B premiums and cost-sharing. This includes deductibles, coinsurance, and copays. The QMB patient is not legally obligated to pay for cost-sharing services. This only applies to Medicare-covered services, which for chiropractors is only the spinal manipulation (98940-98942). Patients are responsible for payment of any Medicare statutorily excluded services they receive.
Group Health Insurance
There may be cases where a Medicare patient is still employed, or they have a spouse that is still working and has coverage through a group health insurance in addition to Medicare. Insurance verification is needed to determine if Medicare will be primary or secondary. It is also possible that the patient may have coverage for more than just spinal manipulations.
Supplemental Insurance
Supplemental insurance is sometimes referred to as Medigap coverage because it usually only covers the gap of what Medicare will not pay such as the deductible or 20% co-insurance. There are some situations where it will cover additional benefits, such as paying the amount of the Medicare Part B deductible.
As you can see, without an insurance verification, it may be very difficult to know what a patient's benefits are or where to even send the claims. Let's do the math to show how denials can financially affect your practice: First, there is at least a 14-day turnaround for Medicare to receive the claim and send back a denial. Then there's the time necessary to resubmit and process the correct plan, which takes an average of over 30 days. If there is a secondary or supplemental plan as well, your office is looking at 60 or more days from service date to resolution—all because you failed to verify.
Don't be surprised if Medicare beneficiaries don't understand their coverage. As a registered provider, you're required to bill for a covered service if Medicare has something to pay. Make that process as systematic as possible to avoid payment delays. The rewards of establishing a verification process will be less time processing claims and an easier way to explain covered services to the Medicare beneficiary. A less measurable but no less valuable benefit of verification is the vote of confidence you'll receive from your Medicare patients when they notice how well you handle their account. Implementing a system for your Medicare patients will improve your cash flow and decrease your workload, making for happy doctors and staff as well.
Read more KMC University Blogs
---
Dr. Karen Sedore has over 10 years of experience working in the chiropractic profession. She began as a manager specializing in billing and medical necessity as well as taking on chiropractic assistant responsibilities so that she could be more involved with patient care. She also has experience with income tax preparation and has helped hundreds of families and small businesses with tax planning. In 2016, Dr. Sedore received her doctorate in Chiropractic from National University of Health Sciences. She joined KMC University in 2017 and assists doctors and their staff in her current role as an Membership Advisor.