Reimbursement Help for Chiropractors
We Provide Peace of Mind
At KMC University, we are here to help you and your practice succeed. We're a comprehensive and highly skilled resource for you, your staff, and your practice – including Medicare, documentation & coding, practice finances, compliance and business essentials.  When you work with our team, you get focused, unique, and content-rich consultancy as well as analysis, coaching, training, and systems implementation services – all in one place, and all designed for customization to your specific needs. Experience the difference between merely surviving and abundantly thriving with our reimbursement help for chiropractors.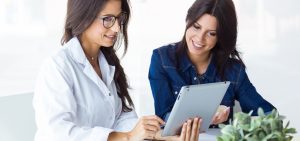 We Analyze, Train, & Implement
What do we do? In short, we analyze, we train, and we implement—and we do it in a way that no other company does: through our suite of on-site and off-site analysis services, our subscription-based education and training programs, our wealth of products ranging from single-subject Problem Solvers to DIY lesson plans for your practice to follow, and via ongoing webinars and seminars we lead and attend all over the country.
We believe in helping DCs make and keep more money and enjoy the peace of mind that comes with knowing they're in compliance as they do so. We are deeply committed to your success.
I just wanted to touch base and let you know how much you have helped my daily routine. I just can't tell you how much time and effort I have put in trying to figure out and correct the modifiers on our claims. We have been putting those in by hand and as you can well imagine there were many errors and many times our claims were stopped or just not paid. It seems to me half my life was spent trying to figure out just why we weren't getting paid. I am in awe of how you just clicked buttons and made my life so much easier. I can't thank you enough. I have a pile of old corrections to fix and after that I am done with this issue for good. I am working hard on my homework and although it is extremely difficult and tedious I do see light at the end of the tunnel. Just want you to know I appreciate more than you will ever know. Thanks again.
Peggy Mitchell