Coronavirus (COVID-19) has reached pandemic status and its effects can be seen globally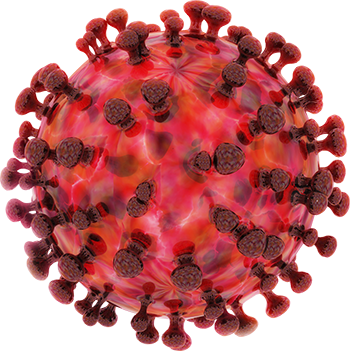 While chiropractic offices may not be facing the same issues as hospitals or urgent care centers, all healthcare providers are on the front lines of this healthcare crisis. Some chiropractic offices may be closed due to a known or suspected exposure to the virus. Other offices may be experiencing a decrease in patient visits as people try to reduce their risks of getting sick by avoiding public places. There may even be some offices that have become increasingly busy with patients due to strained resources at other healthcare facilities. Whether these patients have internal medicine or musculoskeletal complaints, or if they are experiencing physical symptoms due to mental and emotional stress, they are all looking for the advice and support that chiropractic physicians are trained to provide. In times like these, additional measures must be taken to ensure the safety of both patients and staff. If your office doesn't have an emergency plan in place, it is never too late to start.
Protecting Your Patients
There are still many unknowns about COVID-19, however, it is believed that this virus can be transmitted from person to person if an infected person has close contact (less than 6 feet) to another person. It can also be transmitted via the respiratory droplets of an infected person that are then introduced to a non-infected person through their mouth or nasal passages. It is estimated that patients may begin to show signs of infection within 2-14 days. It is difficult to know the extent that asymptomatic patients can transmit the virus to others since testing and research is still so limited. This is why it is imperative that proper hygiene be followed in the office at all times. All team members should wash their hands or use hand sanitizer before and after all patient encounters and frequently throughout the day. Patients should also have access to hand sanitizer and tissues. Since it is unknown how long this virus can survive on various surfaces, frequent cleanings should take place around the office to disinfect doorknobs, computer terminals, patient kiosks, chiropractic tables, rehab equipment, and bathrooms. Scrubs, white coats, and other clothing should be washed more often.
Many businesses have issued statements to their customers detailing the steps they are taking to prevent the spread of this disease. It may be a good idea to customize an email or letter explaining to patients the precautionary measures they may see in the office. You may also want to institute policies regarding restrictions for non-patient visitors or to ask patients who are experiencing symptoms such as a fever, cough, or shortness of breath to call the office before coming.  Waiving cancellations fees may also prevent sick individuals from coming to the office and potentially passing it on to others.
HIPAA Rules During Declared Emergencies
HIPAA ensures both the privacy and security of patients' Protected Health Information (PHI). Under most circumstances, these rules limit the use of PHI related to payment, treatment, and healthcare operations. There may be instances, however, when a patient presents a public health threat and doctors must use their discretion when it would be appropriate to report the situation to authorities. The Office of Civil Rights (OCR) has released a statement about HIPAA privacy as it relates to coronavirus that can be found here: https://www.hhs.gov/sites/default/files/february-2020-hipaa-and-novel-coronavirus.pdf.
Text messages and email alerts for office closures are a great way to keep patients informed. Double check to make sure patients have signed a release for these types of communication before sending out a mass notification. As always, be mindful of any information shared on social media so that patients' privacy rights are protected.
CMS Issues Flexibilities
In this unprecedented time, the following flexibilities have been announced that may affect the profession.
Provider Enrollment
Establish a toll-free hotline for non-certified Part B suppliers, physicians and nonphysician practitioners to enroll and receive temporary Medicare billing privileges
Waive the following screening requirements:


Application Fee - 42 C.F.R 424.514
Criminal background checks associated with FCBC - 42 C.F.R 424.518
Site visits - 42 C.F.R 424.517

Consider the following:


Postpone all revalidation actions
Allow licensed providers to render services outside of their state of enrollment
Expedite any pending or new applications from providers
Expedited Appeals
Extension to file an appeal
Waive timeliness for requests for additional information to adjudicate the appeal
Process the appeal with incomplete Appointment of Representation forms but communicate only to the beneficiary
Process requests for appeal that don't meet the required elements using the information that is available
Utilize all flexibilities available in the appeal process as if good cause requirements are satisfied
Maintaining a Healthy Work Environment
Workplace safety is regulated by OSHA (Occupational Safety and Health Administration). They recommend instituting a "hierarchy of controls" to protect employees from the coronavirus and other workplace hazards. This means that the best way to control a workplace hazard is to systematically remove it from the workplace. Some Administrative Controls that can be used are to encourage sick employees to stay home and provide training on preventing the spread of diseases. Safe work practices are types of administrative controls that include procedures for the safe and proper work used to reduce the duration, frequency, or intensity of exposure to a hazard. Personal Protective Equipment such as gloves or face masks may be needed for certain procedures or when working with high risk patients. At this time, it has not been recommended that healthcare practitioners wear protective gear unless they are at a high exposure risk. 
To ensure that all employees are taking the necessary precautions, OSHA has created different risk level classifications based on job duties:
High exposure risk jobs are those with high potential for exposure to known or suspected sources of COVID-19. Workers in this category include doctors or other healthcare team members that would have very close contact with patients that are known or suspected to have coronavirus.
Medium exposure risk jobs include those that require frequent and/or close contact with (i.e., within 6 feet of) other people who may be infected with COVID-19.
Low exposure risk jobs are those that do not require contact with people known to be, or suspected of being infected. They have limited interaction with patients and other coworkers.
It can be hard to predict every situation that may occur during this crisis. Keep in mind that your office is not only a healthcare facility, it is also a place of employment. Everyone's health and safety should be a top priority. Many state and federal agencies have released helpful resources to assist you with planning for the days and weeks ahead. Having policies and procedures in place can be the security blanket your office needs to provide some comfort and guidance in these uncertain times.
Additional Resources:
Read more KMC University Blogs
---
Dr. Karen Sedore has over 10 years of experience working in the chiropractic profession. She began as a manager specializing in billing and medical necessity as well as taking on chiropractic assistant responsibilities so that she could be more involved with patient care. She also has experience with income tax preparation and has helped hundreds of families and small businesses with tax planning. In 2016, Dr. Sedore received her doctorate in Chiropractic from National University of Health Sciences. She joined KMC University in 2017 and assists doctors and their staff in her current role as an Membership Advisor.