Today's complicated and often stressful chiropractic billing and collections procedures are enough to make healthcare providers nostalgic for the days when doctors got paid in cash, barter, or chickens. Even experienced billing and collections staffers can suffer from overwhelm and burnout. And either of those conditions can lead to some serious holes in your profits.
Billing and Collections Isn't for Everyone
For example, some employees are great at getting bills out the door; others are great at collecting the payments. Not everyone is skilled at both, which means letting KMC University help you put systems and procedures in place makes the process simple and easy for everyone, even new staffers. We have it figured out. The methodical, step-by-step systems we've designed leave nothing to chance, are easily reproducible, and make oversight by doctors and managers a breeze. For example, an effective follow-up system for unpaid claims is a major missing piece in many a small practice's financial. No matter the size of the practice, you should allow for at least 20% of the billing team member's total office time to be spent following up on unpaid bills. Likewise, a tickler follow-up system, when used consistently, makes sure that any team member follows through on every duty, every time. The Accounts Receivable Aging report from your practice software will reveal bills still unpaid after 90 days. Make sure you have accountability for each one, whether it's a detailed notation or an agreement that the claim is a part of a bill to be settled at a later date.
Know Where You Stand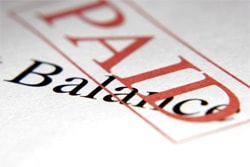 Another money leak: declined claims or lower-than-expected reimbursement from what may seem like insignificant errors such as coding mistakes, spotty documentation, or failing to file for a service you might not even know is billable. As part of our PhD Level Chiropractic Billing and Collections Protocol, we analyze accounts receivable aging reports and determine what's collectible and what's best let go. Be sure you have a system in place that accounts for every write-off, so that every penny is tracked and random write-offs don't cost the practice unnecessarily. At KMC University, we're billing, coding, and documentation experts. Our team of reimbursement specialists have more than 200 years of combined billing and collecting experience, so our systems are proven, tried, and effective.
Whether your office has one or a dozen CAs, our systems buy you time. From the basics of how insurance works to the most valuable techniques for squeezing every dime you have coming from third-party payers, our curriculum and training benefit everyone in your office. KMC University creates chiropractic billing and collections scripts as well as procedures and systems in your practice that maximize collections, leaving DCs free to do what they do best: take care of their patients.
Being a member of the KMC University is a valuable resource for our office. We appreciate that they are on top of the most current information. The Staff is always pleasant and quick to answer our questions.
Edwin S.