What is considered excluded services in Medicare?
The only services considered covered under Medicare when ordered or delivered by a chiropractor are the three spinal adjustment codes (98940, 98941, 98942). Every other service or product provided in the office is considered an "excluded service." These include x-rays, exams, therapies and extra spinal manipulations.
Okay, so I just write it off, right? What else can I do?
Doctors who come to this conclusion may have good intentions, hoping to make it easier on their elderly or disabled patients. Unfortunately, writing off these charges is not an option. Medicare does not provide specific guidance regarding these services but does expect the patient to be charged and to pay for them. Their direction is very clear about the expectation to charge for the services, even if you work with the patient to make payments toward their balance.
Collecting for Excluded Services
You may collect at the time of service for statutorily non-covered treatment or services. Or if you charge and bill correctly, you may offer the patient a payment plan that is suitable to your office processes. For example, the patient incurs costs of $15 per visit for electric muscle stimulation (your actual fee for that service, or your ChiroHealthUSA discounted fee, if they are a member) in addition to their $6 co-insurance for the adjustment. The patient wants to pay $25 a week toward his/her bill until the balance is zero. You have properly charged and billed the patient $21 per visit but allow the patient's payments to be made over time. Many offices find that patients are much more likely to follow a recommended treatment plan when payments fit into the family budget. The Cash Practice system allows for easy payment plan, and even easier auto-debiting of the patient's credit card for their payments.
What about discounts?
The Patient Solicitation Anti-Inducement Provision Section 1128A of the Social Security Act, enacted as part of the Health Insurance Portability Act (HIPAA), provides for the imposition of civil monetary penalties against any person that offers or transfers to a Medicare or Medicaid beneficiary any remuneration that the person knows or should know is likely to influence the beneficiary's selection of a particular provider, practitioner, or supplier of Medicare or Medicaid payable items or services may be liable for civil money penalties of up to $10,000 for each wrongful act.
"Remuneration" includes, without limitation, waivers of copayments and deductible amounts (or any part thereof) and transfers of items or services offered free of charge or for other than fair market value. (See section 1128A (I) (6) of the Act.). Of course, there are provisions for those with financial hardships that have been properly verified.
In summary
You may not randomly discount or provide services free of charge, outside of documented financial hardship or in accordance with a discount medical plan, like ChiroHealthUSA, the patient may be a part of because it's a violation of this rule. This means you may not routinely discount statutorily non-covered services, such as exams, x-rays, therapies and durable medical equipment. It may be seen as an inducement to get Medicare patients into the office, in order to bill for covered services, Chiropractic Manipulative Treatment. If a payment plan is not your thing, check out other compliant options for collecting on excluded services here. Remember, misdirected good intentions or lack of interest in Medicare billing requirements can cost you your practice, don't take a chance.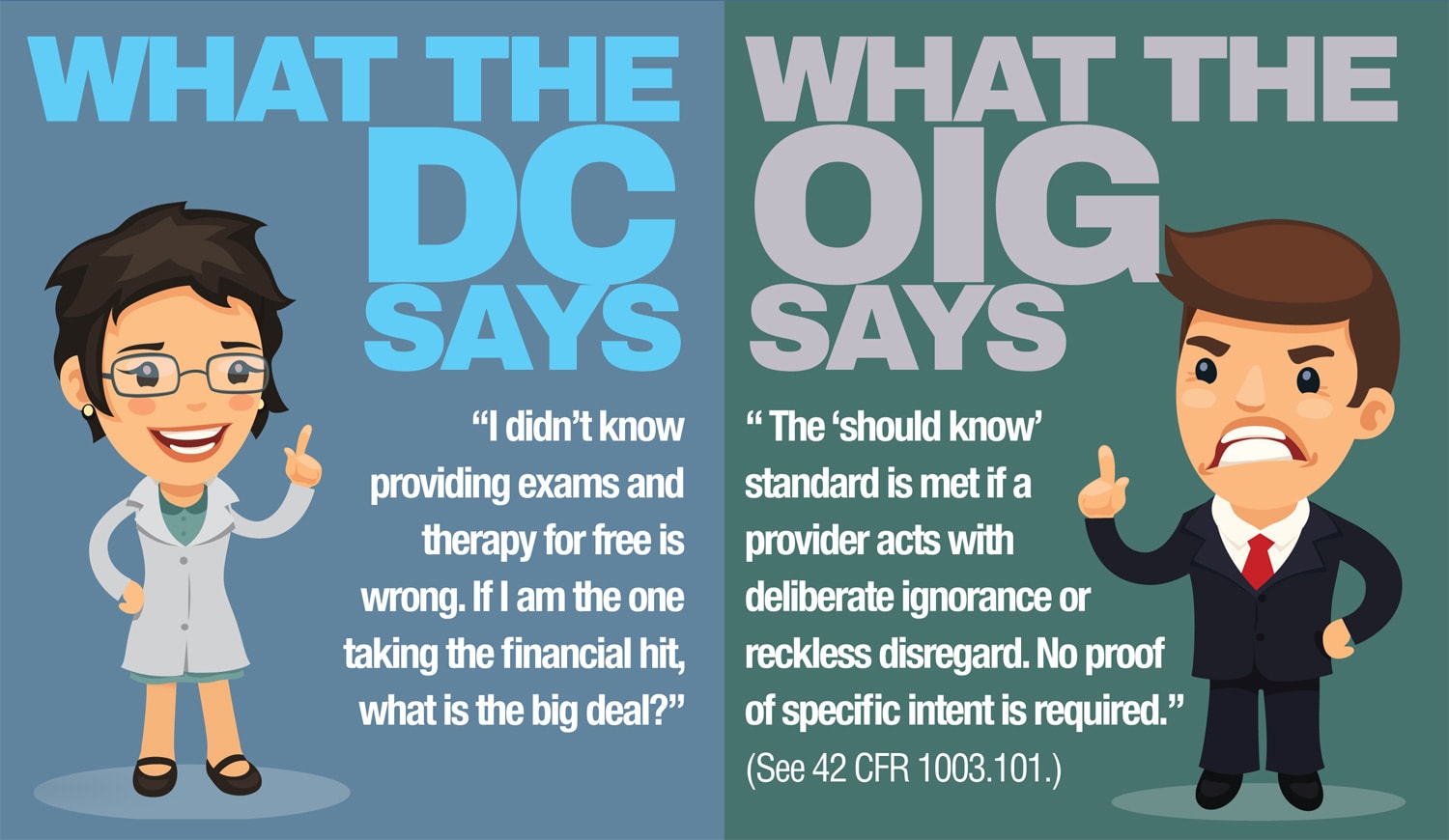 Thank you so much for reaching out to me. You made my day! Covid has rocked my practice as I have had to change most things about practicing. Not a bad thing, just new. To know that you and your team still strive to continually improve and stay on top of a tumultuous environment, is truly inspiring. Thank you all for being the heroes we didn't even know we needed
Kristen Kerr, DC