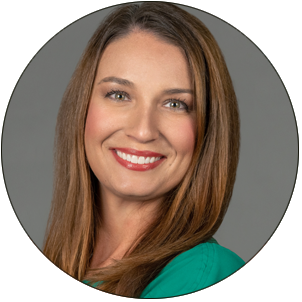 Dr. April Lee graduated cum laude from Palmer West Chiropractic College and began her chiropractic career in Carlsbad, California. She practiced as an Associate Doctor for three years prior to opening her own practice in Niceville, Florida in 2008. Opening a practice increased her responsibility for both business and clinical decisions and revealed a need for additional guidance. As the good book says, 'where there is a multitude of counselors, there is success.' In keeping with this advice, she enlisted the expert services of KMC University to assist her with building a compliant and successful cash -based clinic. For over fourteen years she specialized in treating pediatric patients and pregnant mothers.  In 2020 she sold her practice and joined the KMC University family as a consultant, focusing on helping other doctors to benefit from the many resources at KMC University. In 2021, she earned a certification as a Certified Professional Compliance Officer (CPCO) and was promoted to Director of Education for KMC University. She now lives in Florida with her husband who recently retired from the United States Marine Corp after 23 years of service. She enjoys spending time on the water and scuba diving in her free time.
Quick Tips from Dr. April:
I just wanted to touch base and let you know how much you have helped my daily routine. I just can't tell you how much time and effort I have put in trying to figure out and correct the modifiers on our claims. We have been putting those in by hand and as you can well imagine there were many errors and many times our claims were stopped or just not paid. It seems to me half my life was spent trying to figure out just why we weren't getting paid. I am in awe of how you just clicked buttons and made my life so much easier. I can't thank you enough. I have a pile of old corrections to fix and after that I am done with this issue for good. I am working hard on my homework and although it is extremely difficult and tedious I do see light at the end of the tunnel. Just want you to know I appreciate more than you will ever know. Thanks again.
Peggy Mitchell