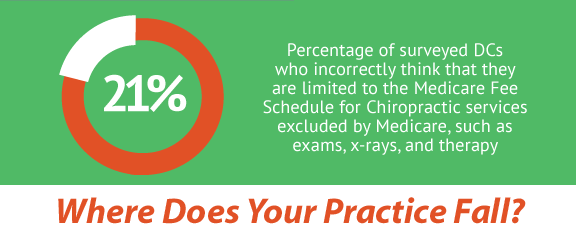 2019 Medicare Fee Schedule
Medicare sets a fee schedule for all service codes. These fees are called regulated fees, meaning that you must abide by these fees for all Medicare patients. They are usually updated annually according to algorithms assigned by the governing law.
There are only three procedure codes for chiropractors that are covered by Medicare and are subject to this fee schedule. See the example below* for a sample layout of fees and their relationship to one another.
2019 Revised Medicare Part B Fee Schedule for Some State-effective 1/1/2019

Place of Service
CPT Code
Par Fee
Non-Par Fee
Limiting Charge
Reg.
98940
25.30
24.00
27.65
Facility
98940
20.15
19.10
22.00
Reg.
98941
35.10
33.50
38.75
Facility
98941
29.50
28.00
32.50
Reg.
98942
45.10
43.00
49.25
Facility
98942
39.20
37.25
42.85
*This is not an actual fee schedule
Important Definitions
The following definitions explain the fees that may apply to your office.
| | |
| --- | --- |
| Term | Definition |
| Facility | The fee schedule used for services rendered in a hospital or other facility when that facility is participating in billing |
| Reg. | The fee schedule used when services are rendered any place other than a facility (e.g., your office) |
| Par Fee | The amount Medicare approves and pays 80% of for participating providers |
| Non-Par Fee | The amount Medicare approves and pays 80% of for nonparticipating providers. (This is usually paid to the patient because the services are unassigned. If you accept assignment on a claim as a nonparticipating provider, this is the maximum amount you can charge the Medicare patient. You will be paid 80% of this amount by Medicare.) |
| Limiting Charge | The maximum amount a nonparticipating provider can charge for an unassigned service. It is 115% of the non-par allowable fee. This charge does not apply to participating providers or to nonparticipating providers when they accept assignment on a claim. |
Mandatory Fee Reductions
In the past, participating providers had to take into consideration a possible fee reduction based on Physician Quality Reporting System (PQRS), and other incentive programs. All of these programs have been replaced with MIPS and are now part of the Quality Payment Programs (QPP). If you are wondering if your fees will be reduced based on mandatory reporting requirements, simply check out the QPP site. Your status can be found here by entering your NPI.
Participating Providers may be subject to mandatory fee reductions if they exceeded the low volume thresh-hold reporting requirements and failed to report. These negative adjustments must be written off and cannot be passed along to the patient as an additional charge.
Nonparticipating Providers Accepting Assignment who were required and failed to report MIPS should anticipate a reduction in fees. Your status can be found here by entering your NPI.
Nonparticipating Providers Not Accepting Assignment will NOT have the MIPS payment adjustment applied starting with the 2019 MIPS payment year. According to the Federal Register/ Vol 83, No 226 November 23, 2018 Page 436 of 852, "MIPS payment adjustment does not apply for non-assigned claims for non-participating clinicians."
I wanted to let you know that I appreciated your steadfast commitment to making sure that we achieve our goals. A million thanks for your patience. We have a roadmap now. Thanks.
Rolande B.